Entry for this prize draw is now closed!
HOORAH! We have another Funky Junkies WINNER! Congratulations to Gareth Cash @ BSKYB who has won two VIP tickets to see Beyoncé!
Commiserations to everyone who didn't win … we had a silly amount of entries but as always it's first out of the hat … Gareth is the one to shake his jelly this time!
Everyone who missed out is automatically entered into our next prize draw – Tea for Two at The Ritz in London … it's a bit POSH there don't you know!?!
Good Luck!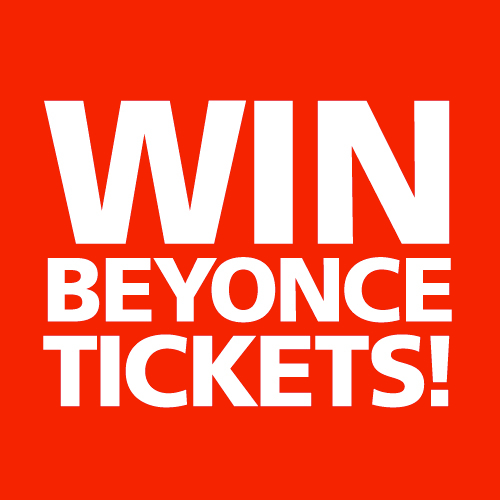 THE SCORE.
That's right, baby! We've got two V.I.P. tickets at TFJHQ for the mighty Beyoncé and to celebrate the release of PHAT BANGERS … we're givin' 'em away
Two tickets for you and a friend … for the hottest show of the year … for the 5th May … in one of those swanky boxes (with an amazing view) at London's O2 Arena!
Listen … these are not knock offs from eBay. Don't ask us how we got 'em. We just did, ok?
And once you arrive through the private entrance … we'll even lay on a bottle of champers to kick start the evening! Yeah … we know, we know … shucks … you're too kind!
THE SONG.
But … you know the drill … there's no such thing as a free lunch, right? We'll always make you sing for your supper! Here's what you have to do.
1. Go to the register page.
2. Enter your details in the boxes.
3. In the message box, tell us if you've ever used our music and on what project you used it! Yup … it's as simple as that!
4. If you've never used our music then … well … tell you what … we'll even give you the chance to enter the prize draw as well! Just put in the box "I've never used your music!" and then suggest some music you'd like from us. Nose Flute Dubstep, Ragga Spoons, Gabba Ballads … or even something less obvious!
5. Press the send button.
6. There is no 6. You're done. Just keep your fingers and toes crossed!
Oh … and all those who are hooked up with us on Facebook and / or Twitter will get entered into the prize draw twice! Make sure you tell us in the message about this so we can do all the necessary cross checking etc!
THE RULES.
1. The Funky Junkies are in no way affiliated to the gorgeous Beyoncé, her companies, the O2 Arena or anything like that. We're just fans!
2. The info you provide is for The Funky Junkies' marketing team and The Funky Junkies' marketing team only. No, we don't know why they want it.
3. The prize is two V.I.P. tickets and some champagne … no limo there, no chicken wings, no night bus home, no youth hostel etc. Got it?
4. Everyone who registers will have their name put in the hat whether they've ever used our music or not. Honestly.
5. Closing date is 18th April and we'll announce the winner on the 19th April … a full two weeks before the gig. So don't worry … you'll have plenty of time to organise yourself and practice those dance moves!
5b! Actually – we're gonna extend prize draw by five days. The response has been amazing and we want as many people as possible to be in with a chance! 23rd April is now the closing date.
6. The tickets are for the winner and the winner's choice of friend. Their names will be put on the emailed ticket and the winner shall be sent this a couple of days before the event.
7. There IS an alternative to this prize! With the arrival of our new long player POSH STUFF we are giving away "Tea For Two" at The Ritz later in the month. If you enter this Beyoncé prize draw then we'll automatically enter you into the Ritz one! B, B, BONUS!
THE SIGN OFF.
Get using, get suggesting, get registering … and if you're ready for this jelly … good luck! And check out PHAT BANGERS and POSH STUFF whilst you're at it! TFJ x