We have a WINNER!
MASSIVE congratulations to Martin Gent over at A+E Television Networks who was only TWO away from guessing the jar had 1805 pills contained within it! We think it was all skill … and luck had nothing to do with it! He has won an iPad3 but we swapped it for him for 500 quids worth of Apple Store vouchers … we're nice like that … but now our accountant has gone mental at us!
Our next prize draw involves Tea For Two at The Ritz in London to celebrate our upcoming release POSH STUFF! We'll keep you up to date!
Here's American Jon counting the buggers up!
(Oh … BTW … all the music in the video is from Subtle Little Things!)
To celebrate the launch of our new 'Find System' … a little thing we like to call The Choon Finder … and the fact that our website has had a little re-rub for use on iPads and the like … we're giving away a brand spanking new iPad 3 … worth 500 quid!
If you want to be in with a chance … you have to do a couple of things for us.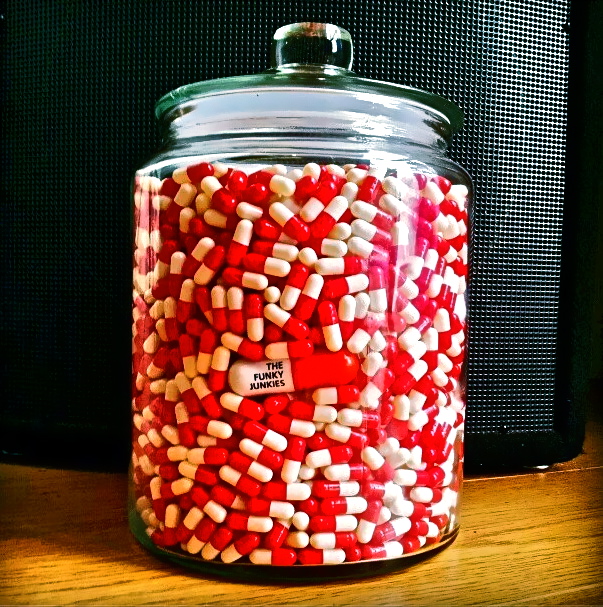 Have a look at the photo and guess how many of The Funky Junkies' pills are in the jar!
Tell us your guess by registering it here – www.thefunkyjunkies.co.uk/register
On the 16th December 2012 we will count them all up and the closest guess wins the iPad!
We'll also video the pills being counted … which we will post on our website for all to see!
We have no idea how many are in there … but it's more than 100 and less than 6000!
And don't forget to check out The Choon Finder
www.thefunkyjunkies.co.uk/choon-finder
Finding music is about to become very addictive!
Some Rules and Information!
In the event of a tie we will do an Eenie Meenie Miney Mo!
It's one entry per person. No more, no less.
There is no cash alternative. (But we may swap the prize for Apple Store vouchers!)
Closing date for entries is 15th December 2012.
We'll announce the winner on The Choon Finder page … so keep checking in!
This promotion is in no way sponsored, endorsed, administered by or associated with Facebook.
Any info you provide is for The Funky Junkies Music Company and not given to Facebook.
Get Guessing! And Good Luck! TFJ x
P.S. All "Likers" of our Facebook page will also get one extra shot …
… with an extra guess made for you by one of The Funky Junkies!
So like us like you've never liked us before!